Bend Oregon Cocktail Catering, Bar & Beverage Services
Cocktails, Drinks and Beverage Services in Bend & Central Oregon
Want great cocktails at your wedding? Don't want to worry about the drinks and beverages for your event? We're sure you'll be able to find a beverage caterer or cocktail catering company that is perfect for you.
Check out our list of cocktail and dink catering and beverage services for Bend, Redmond, Sisters and all other surrounding Central Oregon areas.
The Thirsty Wheel
Bend, OR
(541) 550-8681
With inspired signature cocktails & all the craft beer and wine that Oregon has to offer, The Thirsty Wheel is here for you! We will take care of all the ins & outs of your drink service so you won't have to. Contact us and let The Thirsty Wheel bar cart add a cool sophistication to your special day.
www.thethirstywheel.com
Twist Cocktail Catering Co.
20340 NW Empire Ave., Suite E4
Bend, OR
(541) 633-5855
Central Oregon's premier mobile bar service will put a fresh twist on your wedding. Whether you are looking for the easy elegance of a local-inspired beer and wine selection, or are seeking the creativity and caché of hand-crafted cocktails and signature drinks, Twist will provide it with style and polish. Let Twist raise the bar for your wedding, contact us today!
www.twistcocktails.com
TAPS Mobile Pub
Bend, OR
(405) 977-0199
TAPS Mobile Pub is Bend's best for beer and wine catering. TAPS offers versatile packages and rentals to fit any size party, public or private.
www.tapsmobilepub.com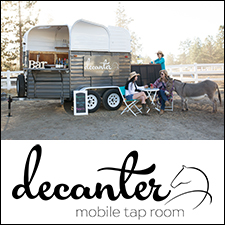 Decanter Mobile Tap Room
Bend, OR
(541) 633-5855
This little filly entered the world in the UK in 1986 as a Rice horsebox trailer. We're not sure when she made the ocean crossing, but we are definitely sure that this little trailer and tack room, needed to be a mobile tap room. Ain't she sweet? Let's bring her out of the stables for your next party.
In Central Oregon and beyond, Decanter can be delivered to your arena, barn, pasture (or really where ever we can find flat ground).
www.twistcocktails.com/decanter-mobile-tap-room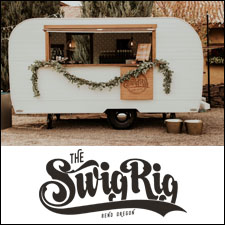 The Swig Rig
Bend, OR
(760) 822-8939
The Swig Rig is a mobile bar service offering a fun and funky aesthetic serving beer, wine, and cocktails from our vintage rigs. The Swig Rig crew will take care of it all so you don't have to worry about a thing – making it easy for you to be the greatest event host of all time!
www.theswigrig.com
Amazing Coffee and Cookies
736 SW Umatilla Ave, Unit G
Redmond, OR 97756
(541) 213-3829
Bend Beerstream
60751 Radcliffe Circle
Bend, OR 97702
(541) 241-8946
Crafted Life
2855 NW Crossing Suite 200
Bend, OR 97703
(541) 749-1708
Dry Fields Cider
611 NE Jackpine Ct.
Redmond, OR 97756
(971) 800-0215
Pacific Perks Coffee Catering
19667 Ridgewood Drive
Bend, OR 97703
(541) 213-7133
Rollin' Spirits Co.
Central Oregon
(541) 279-3883
Snowbirds Margarita Truck
Bend, OR
(541) 610-4761
Social Craft Cocktail Catering
PO Box 7631
Bend, OR 97708
(541) 797-9785
The Tipsy Lemon
Bend, OR
(541) 419-3925