Bend Oregon Cocktail Catering, Bar & Beverage Services
Cocktail Catering, Drinks and Beverage Services in Bend & Central Oregon
If you want great drinks at your wedding, you've come to the right place to find the best cocktail catering and beverage services for your event. Bend's bartending companies and mixologists will create a beverage menu that is perfect for you. Mobile bartending companies will come to your venue with everything they need to serve your guests delicious drinks all night long!
Read More
If you love beer, Central Oregon is home to some of the best microbreweries in the country. Just walking around Bend, it's no secret to know that great beer is a way of life here. Bend's beverage catering companies can serve up your favorite hoppy libations, from lagers to porters and everything in between.
If you need a great wine pairing with your dinner selections, Oregon boasts some amazing wineries. From rich red wines, to crisp white wines, there is something for everyone to enjoy during your wedding. Don't forget to order champagne for the toasts!
A fun and creative addition to your drink menu is a signature cocktail! Whether you know exactly which drink you'd like, or you need a little help creating one, it's no problem. Bend's mixologists and mobile bartenders are here to help mix up the perfect specialty drink for your wedding. Half the fun is naming your drink, so be creative!
For those who prefer non-alcoholic beverages, a mock-tail is a great idea! Central Oregon's cocktail catering companies can create mock-tails that are just as flavorful as the real thing, but without the booze. Ask your bartender for great ideas on mock-tails and other non-alcoholic beverages to be served at the wedding.
Whatever drinks you choose to serve at your wedding, you'll find the best cocktail caterers and bartending companies here. Check out our list of beverage services companies for Bend, Redmond, Sisters and all other surrounding Central Oregon areas.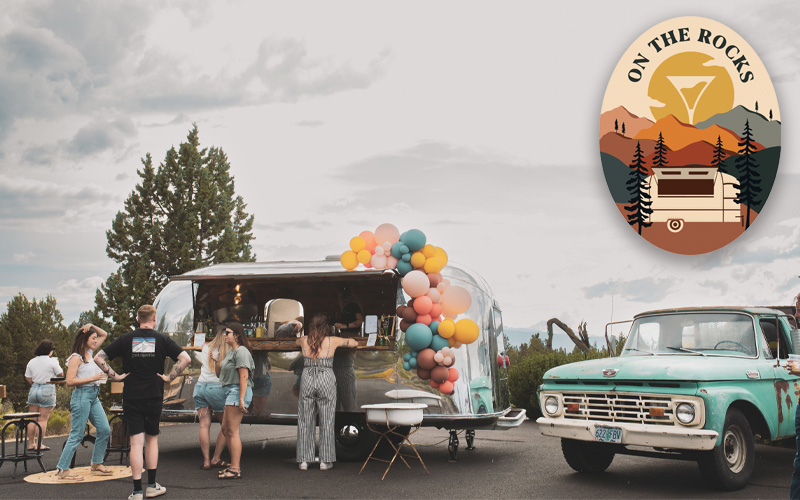 On The Rocks
328 NW Riverfront St.Bend, OR 97703(541) 316-5761
On The Rocks is available for weddings, corporate events, birthdays, fundraisers, tailgates, pop-ups, markets, or any event where you may desire a drink!
www.ontherocksairstream.com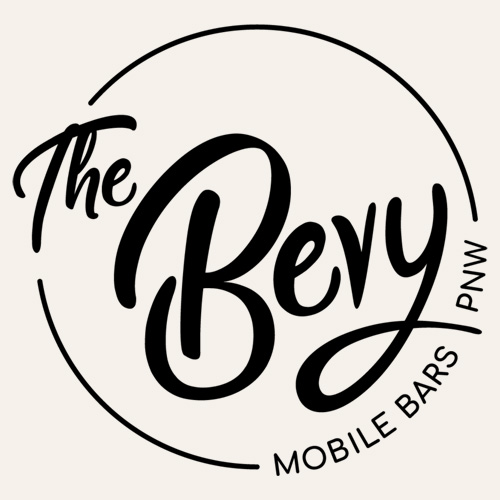 The Bevy PNW
Central Oregon
(541) 313-6838
Ciao! The Bevy PNW is a Piaggio Ape (pronounced ah-pay) from Italy and is a great fit for any event. The Bevy offers an unforgettable guest experience, amazing photo opportunities, and serves smiles to everyone in attendance.
The Bevy easily travels to your event location and arrives in style as a show-stopping bar experience that you and your guests will love. We have customizable packages for any event and we love to roll up to weddings, private events, rehearsal dinners, baby showers, engagement parties, bachelor and bachelorette parties, corporate events, community events, and can be used for photo opportunities and styled shoots.
If you're looking for bartenders or a mobile bar for your event in Oregon, reach out today!
www.thebevypnw.com
Cascade Bartender Company
SW Garfield Ave.
Bend, OR 97702
(541) 788-7078
Crafted Life
2855 NW Crossing Dr.
Bend, OR 97703
(541) 408-6717
Lifted Spirits Co. Mobile Bar
Central Oregon
(458) 206-3177
Lucky Star Mobile Bar
Central Oregon
(360) 490-1635
Pacific Perks Coffee Catering
615 SE Glenwood Dr.
Bend, OR 97703
(541) 213-7133
Rollin' Spirits Co.
Central Oregon
(541) 279-3883
Sips Cocktail Catering
20013 Elizabeth Ln.
Bend, OR 97702
(541) 255-8060
Taps Mobile Pub
All of Central Oregon
(541) 771-0232
The Beer Vault
1920 NE 8th St.
Bend, OR 97701
(541) 300-1067
The Hitchhiker Mobile Bar
Central Oregon
(559) 760-9827
The Tipsy Lemon
Central Oregon
(760) 201-5158
Tumbleweed Beverage Bar
23636 Ten Barr Trl.
Bend, OR 97701
(541) 303-5300