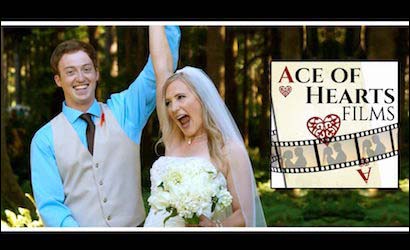 Ace of Hearts Films
Bend, OR
(541) 728-3144
Our cinematic wedding films will make you laugh, cry & feel as if you are right there in the moment. It's the perfect way to relive how you felt on your wedding day over & over again.
www.aceofheartsfilms.com
Not only did Ace of Hearts Films deliver a beautiful video, but they were able to capture the footage while remaining almost invisible. They worked very well with my photographers, shooting video footage while the photographers took still images. I am so glad that I was able to have them film my wedding!
As a former "videographer skeptic", I can tell you that it is WELL worth it especially when booking Ace of Hearts Films!!! Our wedding video captures the raw emotions of the day, beyond that of what a photograph can do. Every time we watch it, I'm literally transported back to that moment & overcome with the blissful feelings that go along with it.
Wow, were we impressed by these guys! I cannot believe how Ace of Hearts Films came together and made my day THE BEST DAY! The day of our wedding they were on time, present, and so fun to be around. I loved how you did not even know there was a camera on us, or a drone in the air. I am so happy with their efforts to make a same day edit video for all to see and their willing to always go above & beyond.