Bend Boho – Luxury Picnic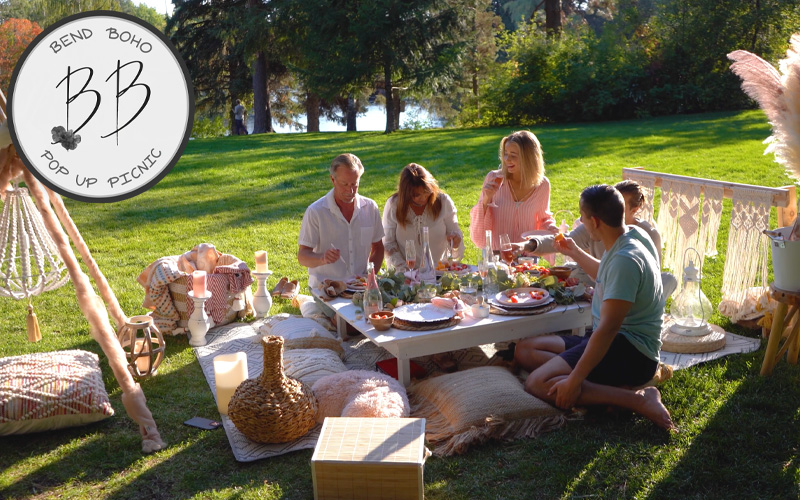 We bring the ambience and everything necessary for an unforgettable experience. Used for receptions, bridal showers, proposals or any other event you want it for. Low seating with beautiful boho embellishments. Small (2) or up to 20 guests.
Life isn't always a picnic, but picnics definitely make life better.
We're polishing the silverware, fluffing the pillows and dreaming up some cozy picnic magic in Bend. This is not your ordinary blanket-on-the-ground outing. We bring the ambiance…and everything else necessary to create an unforgettable experience. From crisp folded napkins to delicate floral ice cubes, we believe it's the little things that matter.
Something For Everyone.
Designed to accommodate 2-6 people, our pop-up picnics are perfect for family outings, romantic proposals, girls' night out, dreamy dates, days worth celebrating, or "just because."
Grab Your Favorite People, We'll Grab The Rest!
We believe a special kind of magic happens when people gather around a table. Whatever vibe you're looking for—whimsical garden, boho chic or something straight-up out of a storybook—we will create a bespoke experience that you and your guests will talk about for years to come.
Exceptional Service.
We want your occasion to be perfect from start to finish. We understand that the experience starts early in the process so we would love to have a conversation with you via phone about what your designs and expectations are. We will then send you an "Event Contract" with all the details and pricing. This will protect you and us from any unexpected surprises.