Bend Oregon Florists & Wedding Flowers
Wedding Flowers and Florists in Bend & Central Oregon
Choosing a Bend florist for your wedding day will be a highlight of the planning process! There are so many beautiful flower choices for your bouquets, boutonnieres, table arrangements, cake decorations, centerpieces and more! Don't worry. We have expert florists in Bend, Oregon that can help! From traditional designs, to gorgeous custom creations, we have it all.
Read More
Discover Blooming Beauty: Wedding Florists in Bend, Oregon and Central Oregon
Welcome to the world of blooming beauty and floral enchantment for weddings in Bend, Oregon, and across the scenic landscapes of Central Oregon! If you're on the quest for the perfect floral arrangements to enhance the splendor of your special day, you've arrived at the right destination.
Crafting Your Bridal Story: Unique Bouquets for Bend Brides
In the heart of Bend and extending throughout Central Oregon, our florists specialize in creating enchanting arrangements that transform your wedding into a visual masterpiece. Whether you're dreaming of classic roses, bohemian wildflowers, or a cascade of vibrant orchids, each bloom is chosen with care, creating a bouquet that mirrors your individuality and the essence of your love story.
Boutonnieres and Beyond: Bridal Party Blooms for Bend Weddings
Complementing the bridal bouquet, our florists craft exquisite boutonnieres for the groom and his groomsmen. Bridesmaids' bouquets, flower crowns, and delicate posies for flower girls are designed to harmonize with the overall theme, ensuring a cohesive and visually stunning bridal party.
Captivating Centerpieces: Elevate Your Reception in Central Oregon
Extend the floral enchantment to your reception with captivating centerpieces that set the tone for a memorable celebration. From elegant table runners adorned with local blooms to hanging floral installations that add a touch of romance, our florists excel in transforming reception venues into floral wonderlands.
Local Flora for a Unique Touch: Celebrating Central Oregon's Beauty
Incorporating local flowers and flora is our specialty. Imagine the charm of Bend's indigenous blooms enhancing your wedding venue—sunflowers, lavender, and high desert wildflowers adding a touch of Central Oregon's natural beauty to your celebration. Our florists celebrate the region's flora, infusing a local touch into every arrangement.
Tailored Blooms: Comprehensive Floral Packages for Central Oregon Weddings
Explore our comprehensive floral packages tailored to suit your vision and budget. Whether you're planning an intimate elopement or a grand celebration, our florists are committed to bringing your floral dreams to life.
Unleash Floral Magic: Bend, Oregon Florists for Your Wedding Symphony
Unleash the magic of floral artistry on your wedding day. Our Bend, Oregon florists are dedicated to creating unforgettable, breathtaking arrangements that tell the story of your love through the language of flowers. Let us be your partners in turning your wedding into a floral symphony, celebrating the beauty of your commitment amidst the stunning landscapes of Central Oregon.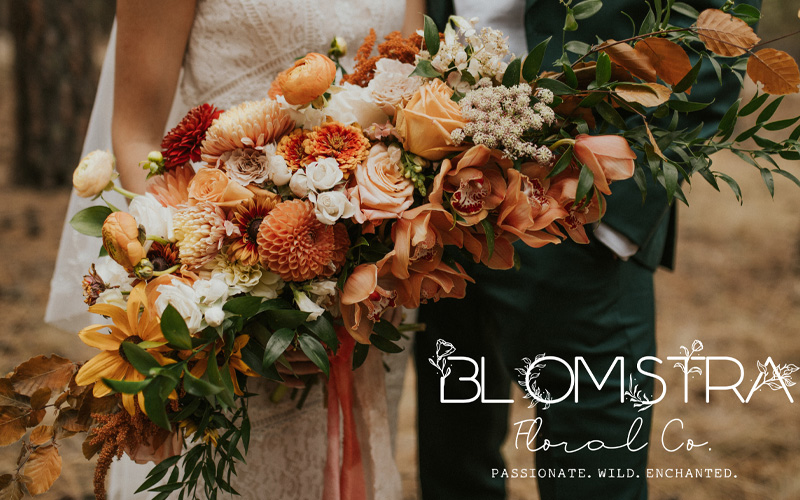 Blomstra Floral Co.
PO Box 4038
Bend, OR 97707
(541) 797-0250
For thousands of years, flowers have been used to communicate when words just don't cut it. Each flower boasts qualities that tell a special tale. As a floriographer (floral storyteller), I have dedicated myself to becoming fluent in this language so I can translate your love story into enchanting and artistic arrangements. My designs are carefully crafted and eco-conscious. I can't wait to tell your story!
www.blomstraflorals.com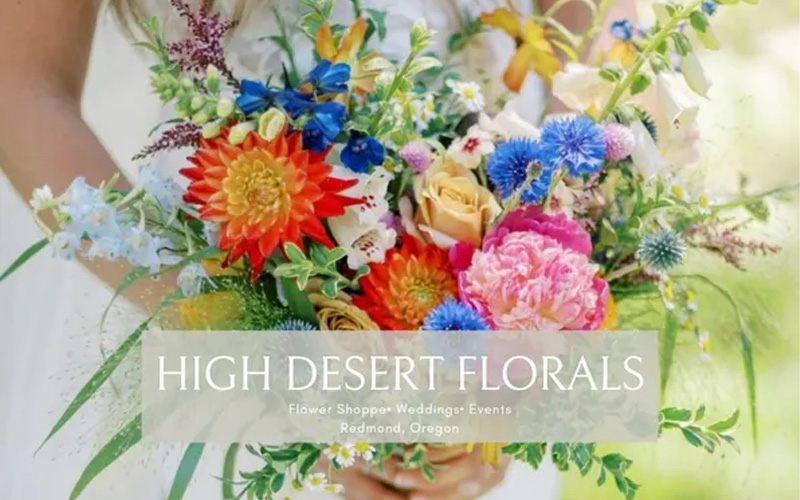 High Desert Florals
231 SW 6th St.
Redmond, OR 97756
(541) 923-3977
High Desert Florals is an award winning and certified team of florists that will transform your wedding with a abundant floral story. We specialize in garden style arrangements with an emphasis in local oregon grown florals within our designs.
www.highdesertflorals.com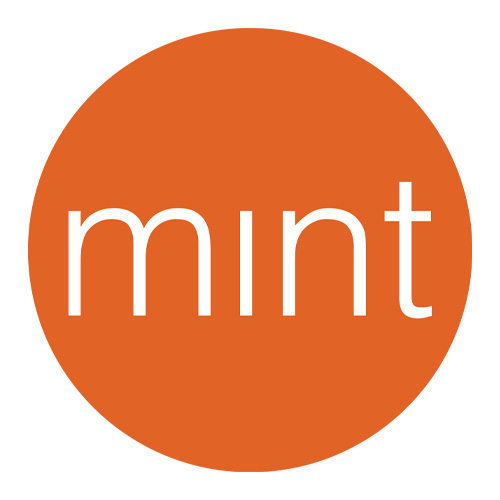 Mint Floral
PO Box 7829
Bend, OR 97708
(541) 480-9845
At Mint, we have seen how integral the magic of floral design can be to any event and how it provides a unique reflection of our client's exquisite taste. floral@eventsbymint.com
http://www.eventsbymint.com/floral.html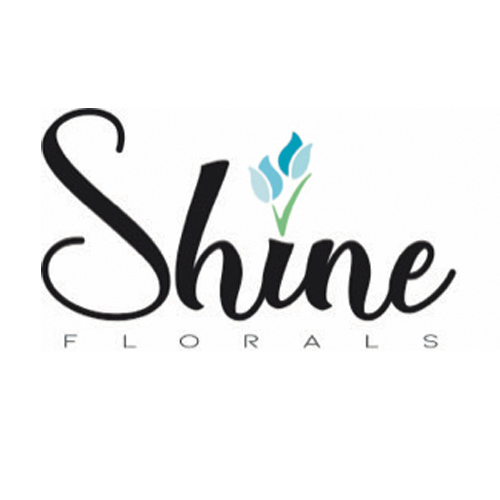 Shine Florals
Planning + Florals
Bend, OR
(541) 550-0982
Along with providing our clients with top notch planning and coordinating services, we also offer in-house floral services! Take some of the stress out of your wedding planning by reducing the amount of vendors, and consolidate two services into one! We offer several floral package options to meet the needs, and budgets, of our clients. Whether you choose a full service package or an a la carte option, we promise to deliver beautiful, fresh, modern arrangements that will bring your visions to life!
www.shineeventsbend.com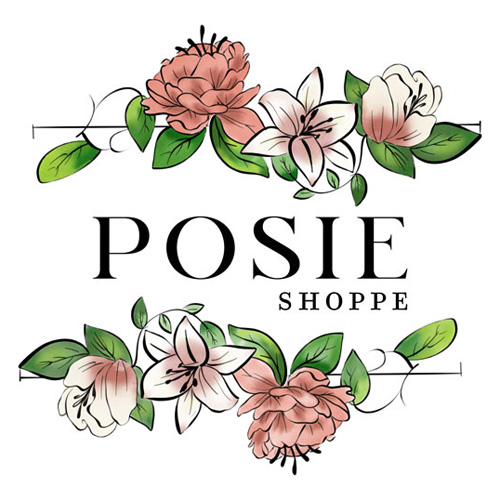 The Posie Shoppe
127 NW 3rd St.
Prineville, OR 97754
(541) 447-4397
At The Posie Shoppe, we are passionate about helping you find the perfect flowers for your wedding, while respecting your budget. Our staff of award winning designers is dedicated to helping you visualize and create your wedding day. We can go beyond floral design, providing overall event design to help you ensure that your wedding has the feeling you dreamed of. We can do as much or as little as you would like. After all, it′s your day!
www.centraloregonweddingflowers.com
Ana's Rose N Thorn
1900 NE 3rd St., Suite 107
Bend, OR 97701
(541) 382-0756
Autry's 4 Seasons Florist
759 NE Greenwood Ave., Suite 2
Bend, OR 97701
(541) 382-3636
Blissful Blossoms
2901 NE Marea Dr.
Bend, OR 97701
(503) 522-2125
Captains Flowers Prineville
5318 Davis Lp.
Prineville, OR 97754
(541) 350-4370
Celebrate The Season
61430 Brosterhous Rd.
Bend, OR 97702
(541) 244-2536
Donner Flower Shop
605 NW Newport Ave.
Bend, OR 97701
(541) 382-3791
Every Bloom'n Thing
251 SW 6th St., Suite 2144
Redmond OR, 97756
(541) 504-9777
Flowers by Deanna
341 West Cascade Avenue
Sisters, OR 97759
(541) 549-4299
Flowers by Eryn
555 NW Arizona Ave., Suite 10
Bend, OR 97703
(541) 977-1650
Garden Gate Flowers
1720 SW Culver Hwy.
Madras, OR 97741
(541) 475-4429
High Desert Florals
307 NW 7th St.
Redmond, OR 97756
(770) 686-5523
In the Garden
636 NW 6th St., Suite A
Redmond, OR 97756
(541) 923-3977
It's The Touch
62020 Torkelson Rd.
Bend, OR 97701
(541) 419-8328
Petals. Flowers by Katie
Bend, OR
(707) 933-7482
Summer Robbins Flowers
62980 Boyd Acres Rd., Suite F-2
Bend, OR 97701
(458) 202-0992
Sweet Posy Floral
Bend, OR
(541) 312-9766
The Lady Bug Flower & Gift Shop
209 SW 5th St.
Redmond, OR 97756
(541) 548-6188
Three Sisters Floral
243 N Elm St.
Sisters, OR 97759
(541) 549-8198
Wild Poppy Florist LLC
56825 Venture Ln., Suite 108
Sunriver, OR 97707
(541) 593-2027
Wildflowers of Oregon
920 NW Bond St, Suite 103
Bend, OR 97703
(541) 389-3442
Windflower Farm LLC
26285 Walker Rd.
Bend, OR 97701
(541) 678-3166
Woodland Floral
Sisters, OR
(541) 280-9982