Bend Oregon Salons & Hair Stylists
Salons and Hair Stylists in Bend & Central Oregon
You want to look your best on the big day, and with so many fantastic salons in Bend, we would love to help you find the perfect hair stylist for your wedding. Whether it's a fresh cut and color or an elegant bridal up-do, or a trim and hair styling for the groom, you can find it in Central Oregon. We also have plenty of salons that offer eco-friendly and organic products and practices. Bend's salons have it all. Whatever your needs, we're sure one of Central Oregons' salons will make you look your best on your wedding day!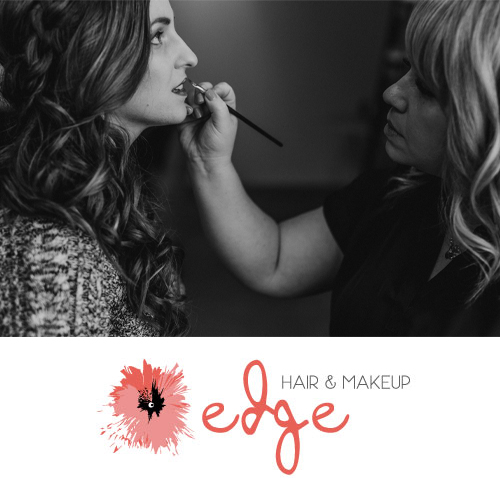 Edge Hair & Makeup
A comfortable hair and makeup studio in Bend, OR
1807 NE Shadowcrest Way
Bend, OR 97701
(541) 410-4384
Winner of Oregon Bride's Best of 2017/2019 and finalist for the past 5 years running, Edge is a believer in the idea that all women deserve to feel breathtakingly beautiful on their wedding day. Edge has quickly become one of Central Oregon's most trusted names in wedding hair and makeup.
Esthetician: FT-1003416
Hair Design: HA-1003416
Freelance License: CI-10188479
www.edgehairmakeup.com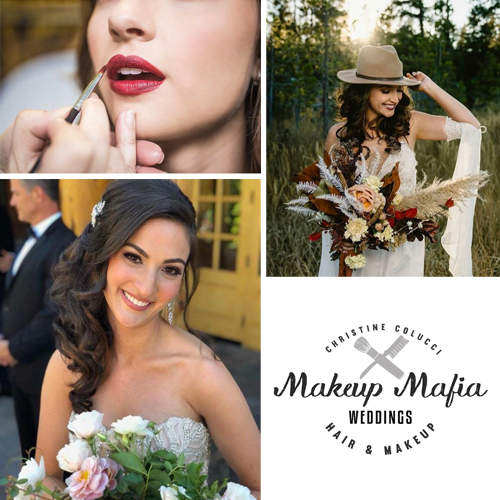 Makeup Mafia Weddings
550 NW Franklin Ave #138 Bend, OR 97701 (541) 604-8130 (323) 497-5679
Let celebrity hair and makeup artist Christine Colucci make you look and feel like a star! Esthetician – COS-FT-10175597 Hair Design – COS-HA-10175872 Freelance Authorization – COS-CI-101-75873
www.makeupmafiaweddings.com
Amazing Hair Design
214 SE Miller Ave.
Bend, OR 97702
(541) 318-1989
Apollo Salon and Tanning
61470 S Hwy 97, Suite 2
Bend, OR 97702
(541) 317-0304
Artistry by Angela
2445 NE Division St.
Bend, OR 97701
(541) 480-3540
Attitudes Full Service Salon
61396 S Hwy 97, Ste 102
Bend, OR 97702
(541) 383-4300
Avalon Salon & Spa Aveda
330 SW Powerhouse Dr., Suite 130
Bend, OR 97702
(541) 306-6222
Axis Salon
627 SW Deschutes Ave.
Redmond, OR 97756
(541) 504-7760
Azura' Studio - Salon & Day Spa
856 NW Bond St., Suite 3
Bend, OR 97703
(541) 385-1846
Bamboo Salon & Spa
405 NE 3rd St.
Bend, OR 97701
(541) 385-8060
Bella Studio Salon
2150 NE Studio Road, Suite 6
Bend, OR 97701
(541) 280-4198
Bend Extensions
265 NW Franklin Ave., Suite 103
Bend, OR 97703
(541) 233-9017
Bend Hair Co.
265 NW Franklin Ave., Suite 103
Bend, OR 97703
(615) 812-4304
Bishops Cuts/Color
130 NW Oregon Ave.
Bend, OR 97703
(541) 647-2703
Bond Street Barber Shop
841 NW Bond St.
Bend, OR 97703
(541) 312-2121
Curl Up & Dye Innovative Salon
1465 SW Knoll Ave., Suite 207
Bend, OR 97702
(541) 312-9300
Cutloose Hair Co
444 NE Revere Ave.
Bend, OR 97701
(541) 385-5784
Dames & Dudes Hair Design
64661 Bruce Ave.
Bend, OR 97701
(541) 382-2858
Dollhouse Beauty Lounge
1007 1/2 NW Galveston Ave.
Bend, OR 97703
(541) 647-0154
Element 909 Bend Barber Shop
920 NW Bond St., Suite 102
Bend, OR 97702
(541) 322-9090
Feathered Salon
222 NW 7th St., Suite 1
Redmond, OR 97756
(541) 923-9852
Fringe Studio
471 NE Greeley Ave.
Bend, OR 97701
(541) 350-5640
Gather Hair Collective
1132 NW Newport Ave.
Bend, OR 97703
(541) 797-0960
Great Clips
61545 S Hwy 97, Suite 204
Bend, OR 97702
(541) 388-9097
Hair Gallery
2625 NE Butler Market Rd.
Bend, OR 97701
(541) 389-7832
Head Over Wheels Hair Co. Mobile Salon
305 NE Burnside Ave.
Bend, OR 97701
(541) 280-6452
Hip Chicks Salon
322 NW 7th St.
Redmond, OR 97756
(541) 923-5292
Images Salon
211 NE Revere Ave., Suite 3
Bend, OR 97701
(541) 389-3660
Jazba Salon
337 NE Norton Ave.
Bend, OR 97701
(541) 668-7306
Jessica Wright Hair Design & Color
50 SW Bond St., Suite 102
Bend, OR 97702
(541) 610-3790
K and Co Bridal and Hair Stylist
Bend, OR
(541) 913-7618
Ka Nui Salon
249 NW 6th St., Suite 2
Redmond, OR 97756
(541) 504-4544
Kate Tuma
Bend, OR
(541) 598-4415
Kim Costa Hair Stylist
18707 SW Century Dr.
Bend, OR 97702
(541) 350-5990
Leah Nicole Bridal Hair Designs
Redmond, OR
(541) 517-4564
Lemon Drop Hair Salon
5 NW Minnesota Ave., Suite 105
Bend, OR 97701
(541) 382-5605
Mary Ruth Stylist
10 NW Minnesota Ave., Suite 130
Bend, OR 97703
(971) 645-7037
Metamorphosis Salon & Spa
161 N Elm St.
Sisters, OR 97759
(541) 549-1784
Metropolitan Barber Shop
1011 NW Wall St.
Bend, OR 97701
(541) 382-1451
Midtown Beauty Salon
932 NE 8th St.
Bend, OR 97701
(541) 382-7434
MiNT Nail & Hair
2115 NE Division St.
Bend, OR 97701
(541) 668-6203
Perfect Look Salon
61535 S Hwy 97, Suite 14
Bend, OR 97702
(541) 317-0732
Planet Hair
118 NW Greenwood Ave.
Bend, OR 97701
(541) 388-4090
Pro Solar Nails
61145 S Hwy 97
Bend, OR 97702
(541) 388-0287
Reflections Hair Salon
206 SE Taft Ave.
Bend, OR 97702
(541) 318-0494
ROOTS Salon
521 NW Colorado Ave.
Bend, OR 97701
(541) 306-4589
Salon 97
1404 NE 3rd St., Suite 4
Bend, OR 97701
(541) 312-5374
Salon Bliss
621 SW Evergreen Ave.
Redmond, OR 97756
(541) 604-5593
Salon Essenza
745 NW Mount Washington Dr., Ste. 105
Bend, OR 97701
(541) 306-3566
Salon Estilo
450 SW Powerhouse Dr.
Bend, OR 97702
(541) 330-9791
Salon J
427 SW 6th St.
Redmond, OR 97756
(541) 233-7338
Salon Sunriver & Beauty Supply
56870 Venture Ln., Ste. 101S
Sunriver, OR 97707
(541) 598-0505
Salon Twist
2736 NW Crossing Dr., Suite 110
Bend, OR 97701
(541) 310-1523
Sal's Barber Shop
61419 S Hwy 97, Suite D
Bend, OR 97702
(541) 728-3853
Simply Divine Studio
312 SE Dell Ln.
Bend, OR 97702
(541) 668-7681
Spell Studio
1183 NW Wall St.
Bend, OR 97701
(541) 419-0128
Tangerine Salon
10 NW Minnesota Ave., Suite 130
Bend, OR 97701
(541) 389-9090
The 9 Salon
2757 NW 7th St., Suite C
Redmond, OR 97756
(541) 316-0096
The Parlor
1323 NW Galveston Ave.
Bend, OR 97703
(541) 350-5861
Utopia Salon
755 SW 7th St.
Redmond, OR 97756
(541) 548-4069
Valentino's Salon
782 NW 3rd St.
Prineville, OR 97754
(541) 447-1888
Visible Changes LLC
811 SW 13th Street
Redmond, OR 97756
(541) 504-4505
Zanté Salon & Spa
920 NW Bond St.
Bend, OR 97701
(541) 330-0920