Bend Oregon Dance Instruction
Dance Lessons and Instruction in Bend & Central Oregon
The first dance: the intimate, loving moment you share with your spouse as a married couple. When the toasts have been made and the champagne has been served, it's all eyes on you as you dance together with your partner. Bend's dance instructors offer lessons to help make your wedding dances truly memorable. From an elegant ballroom waltz to a light-hearted twist, our skilled dance instructors know how to get the party started!
Read More
Welcome to the rhythm-filled world of dance lessons in Bend, Oregon, and across the captivating expanse of Central Oregon! If you're ready to step into the world of dance, whether as a beginner or someone looking to refine their moves, you're in the right place.
Dance Lessons for Every Style and Occasion
In the heart of Bend and throughout Central Oregon, dance enthusiasts can find lessons spanning a wide spectrum of dance styles. From the sultry sway of ballroom to the energetic beats of salsa, our diverse offerings cater to all tastes and skill levels.
Preparing for Your Wedding Dance in Bend, Oregon
For those gearing up for the most special day of their lives, our dance lessons in Bend, Oregon, extend a warm invitation to couples preparing for their wedding dance. Picture yourself gliding across the dance floor with grace and confidence during that unforgettable first dance. Our experienced instructors specialize in creating a personalized dance experience, tailored to suit your style and comfort. Whether you're envisioning a classic waltz or a contemporary number, we've got you covered.
Wedding Dance Packages for Central Oregon Couples
Explore our wedding dance packages designed to make your wedding dance dreams a reality. Our instructors work closely with couples to choreograph a dance that reflects their unique love story. From the choice of music to the intricacies of footwork, we ensure that every step is a testament to your journey together.
Beyond the First Dance: Wedding Party Dance Lessons
Elevate your wedding celebration with group dance lessons for your wedding party. Imagine the joy of synchronized moves during the reception or a surprise dance performance that will leave your guests in awe. Our instructors specialize in making your wedding celebration not just a ceremony but a spectacular dance-filled event.
– Dance classes Bend
– Wedding dance lessons Central Oregon
– Ballroom dance Bend
– Salsa lessons Bend
– First dance lessons Bend
– Group dance lessons Central Oregon
– Wedding party dance instruction Bend
– Choreographed wedding dances Bend
Unveil the magic of dance in Bend, Oregon, and throughout Central Oregon. Whether you're stepping onto the dance floor for the first time or looking to add a touch of elegance to your wedding celebration, our dance lessons are your gateway to a world of movement, expression, and joy. Join us, and let the dance journey begin!
​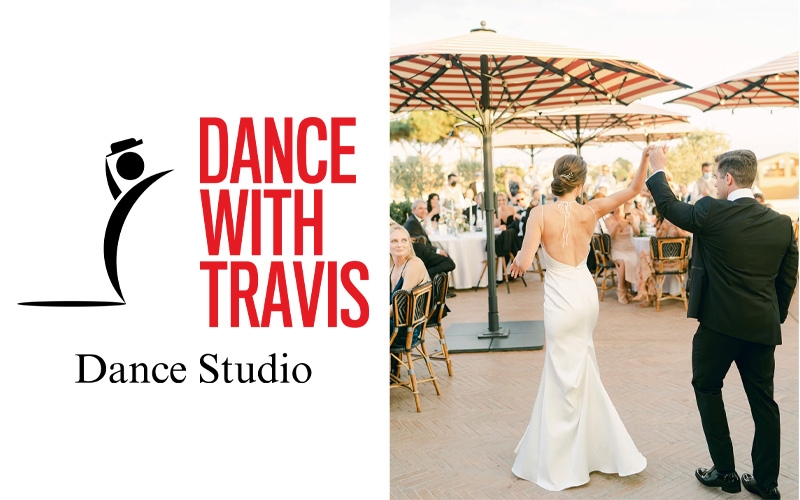 Dance With Travis Dance Studio
62880 Peerless Court Suite C
(By Appointment Only)
Bend, OR 97701
(541) 600-2500
From beginning dance lessons designed to get you moving more comfortably on the dance floor to choreographing a special first dance to your wedding song- we'd like to help make your special day even more special!
We offer private lessons for the wedding couple as well as group classes for the entire wedding party. Dance floor rental is also available with or without a group class at your venue.
www.dancewithtravis.com
Gotta Dance Studio & Co.
917 NE 8th Street
Bend, OR 97701
(541) 647-6899
Terpsichorean Dance Studio
1601 NW Newport Ave.
Bend, OR 97701
(541) 389-5351
The Space Bend
2570 NE Twin Knolls Dr., Suite 110
Bend, OR 97701
(541) 280-8814
The Dance Connection
740 NE 3rd St., Suite 1
Bend, OR 97701
(541) 318-8338