Bend Oregon Cocktail Catering, Mobile Bars & Beverage Service
Cocktail Catering, Drinks and Beverage Services in Bend & Central Oregon
If you want great drinks at your wedding, you've come to the right place to find the best cocktail catering and beverage services for your event. Bend's bartending companies and mixologists will create a beverage menu that is perfect for you. Mobile bartending companies will come to your venue with everything they need to serve your guests delicious drinks all night long!
Read More
Crafting Unforgettable Moments: Cocktail Catering in Bend, Oregon
Sitting in the picturesque landscapes of Central Oregon, Bend stands as a wedding destination that seamlessly blends natural beauty with the unique spirit of the Pacific Northwest. Elevate your wedding experience by exploring the vibrant world of cocktail catering, a trend that's gaining popularity in this scenic region.
Mobile Bar Services: Bringing the Party to You
Imagine a mobile bar setting against the backdrop of the Cascade Mountains or the Deschutes River, offering a bespoke experience for you and your guests. Mobile bar services in Bend bring the party directly to your chosen venue, whether it's an outdoor wedding in Drake Park or an elegant affair in one of Bend's rustic-chic resort venues. These services not only provide expert mixologists, cocktails, local craft beer and wine, but also create an atmosphere of sophistication and convenience.
Crafted Libations for Every Palate
Couples seeking cocktail catering in Bend will discover a diverse range of libations to suit every palate. From locally inspired craft cocktails featuring spirits from Oregon distilleries to refreshing non-alcoholic options and carefully crafted mocktails, the possibilities are as vast and varied as the stunning landscapes surrounding you. Engage your guests with signature drinks that reflect the essence of Central Oregon, utilizing fresh, local ingredients for a truly authentic experience.
Local Craft Beer and Microbreweries: A Central Oregon Delight
Central Oregon is renowned for its flourishing craft beer scene, and incorporating local brews into your wedding festivities adds a distinctive touch. Partnering with microbreweries in Bend, Sisters, Sunriver and Redmond allows you to showcase the region's finest beers. Imagine offering a flight of local brews at your wedding, each sip capturing the essence of the thriving craft beer culture in Central Oregon.
Creating Memorable Moments with Non-Alcoholic Mocktails
For those guests who prefer not to indulge in alcoholic beverages, or for non-drinking occasions, the world of mocktails offers an array of sophisticated, alcohol-free options. Infused with fresh fruits, herbs, and creative flair, these mocktails not only cater to diverse preferences but also contribute to the overall experience of your celebration. A professional cocktail catering service in Bend ensures that everyone, regardless of their drink choices, feels included in the festivities.
Unique Venues in Surrounding Towns: Sisters, Sunriver, La Pine, Prineville, Terrebonne, and Redmond
Extend your exploration of cocktail catering to the charming towns surrounding Bend. Sisters, with its rustic charm, and Redmond, a growing hub of culture, both offer unique venues that set the stage for unforgettable celebrations. Whether you choose an historic building Redmond, a vineyard in Sisters, or a modern space in Sunriver, cocktail catering services can enhance the ambiance and create a memorable experience for you and your guests.
Why Choose Cocktail Catering for Your Central Oregon Wedding?
1. Personalized Experience: Cocktail catering allows you to tailor the drinks to your preferences and the theme of your wedding, creating a personalized experience for you and your guests.
2. Interactive Element: Watching skilled mixologists craft cocktails and pour wine adds an interactive and entertaining element to your wedding, fostering an engaging atmosphere.
3. Local Flair: Embracing local spirits, beer, and ingredients connects your celebration to the vibrant culture of Central Oregon, giving your wedding a distinct and regional flavor.
4. Versatility: Whether it's a formal affair or a laid-back gathering, cocktail catering services in Bend offer versatility to match the unique vibe of your wedding.
In Central Oregon, where every sunset over the mountains paints a masterpiece, cocktail catering adds the finishing touch to your wedding canvas. Raise a glass to love, laughter, and the memories that will linger long after the last sip. Cheers to a truly unforgettable celebration in Bend and beyond!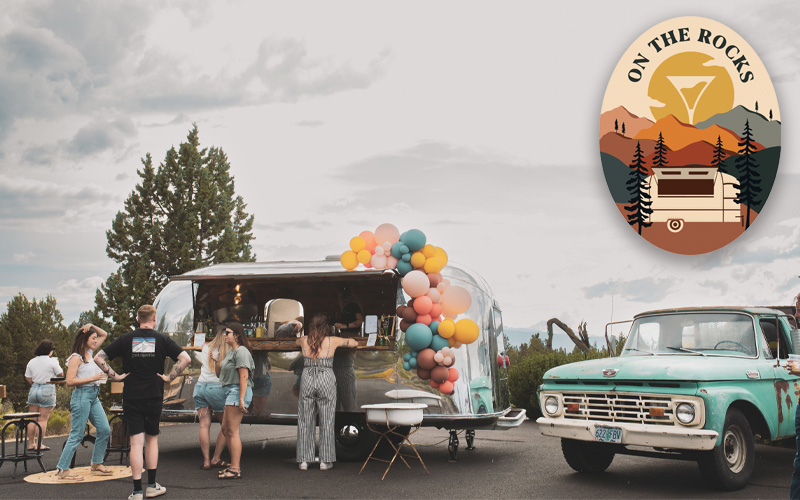 On The Rocks
328 NW Riverfront St.Bend, OR 97703(541) 316-5761
On The Rocks is available for weddings, corporate events, birthdays, fundraisers, tailgates, pop-ups, markets, or any event where you may desire a drink!
www.ontherocksairstream.com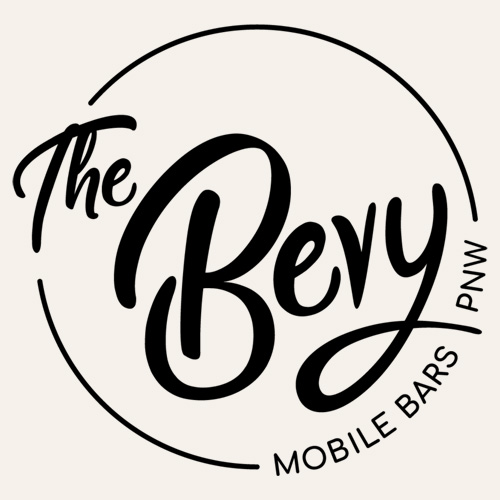 The Bevy PNW
Central Oregon
(541) 313-6838
Ciao! The Bevy PNW is a Piaggio Ape (pronounced ah-pay) from Italy and is a great fit for any event. The Bevy offers an unforgettable guest experience, amazing photo opportunities, and serves smiles to everyone in attendance.
The Bevy easily travels to your event location and arrives in style as a show-stopping bar experience that you and your guests will love. We have customizable packages for any event and we love to roll up to weddings, private events, rehearsal dinners, baby showers, engagement parties, bachelor and bachelorette parties, corporate events, community events, and can be used for photo opportunities and styled shoots.
If you're looking for bartenders or a mobile bar for your event in Oregon, reach out today!
www.thebevypnw.com
Cascade Bartender Company
SW Garfield Ave.
Bend, OR 97702
(541) 788-7078
Crafted Life
2855 NW Crossing Dr.
Bend, OR 97703
(541) 408-6717
Lifted Spirits Co. Mobile Bar
Central Oregon
(458) 206-3177
Lucky Star Mobile Bar
Central Oregon
(360) 490-1635
Pacific Perks Coffee Catering
615 SE Glenwood Dr.
Bend, OR 97703
(541) 213-7133
Rollin' Spirits Co.
Central Oregon
(541) 279-3883
Sips Cocktail Catering
20013 Elizabeth Ln.
Bend, OR 97702
(541) 255-8060
Taps Mobile Pub
All of Central Oregon
(541) 771-0232
The Beer Vault
1920 NE 8th St.
Bend, OR 97701
(541) 300-1067
The Hitchhiker Mobile Bar
Central Oregon
(559) 760-9827
The Tipsy Lemon
Central Oregon
(760) 201-5158
Tumbleweed Beverage Bar
23636 Ten Barr Trl.
Bend, OR 97701
(541) 303-5300