Bend Oregon Limos, Shuttle, Transportation & Tours
Transportation, Shuttles, Limousines & Tours in Bend & Central Oregon
Bend's transportation services are here to help you get everyone to the wedding on time and in style. Whether you need a central Oregon limo, shuttle bus, trolley, classic car, or horse carriage for your wedding day, you can always find the perfect mode of transportation in Bend, Oregon. From getting your guests to and from the ceremony, to a limo for the wedding party, we've got you covered. We also have eco-shuttle options that can help keep Central Oregon green!
Read More
We know you'll have guests coming from near and far for your wedding day, which is why having a major airport in Redmond so nice. There are plenty of taxi and airport shuttle services, as well as rental car options to help you get to your destination. Most of our venues, hotels and resorts offer transportation as well. When you get to Bend, relax, enjoy it, and leave the driving to us.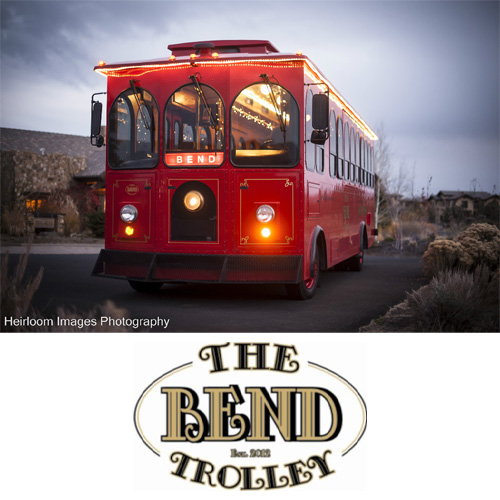 The Bend Trolley
Bend, OR
(541) 771-1800
The Bend Trolley is bringing the San Francisco style to Central Oregon. This thirty passenger red trolley offers features such as air conditioning, heating, handicap accessible, flat screen TV's, and can convert into an open air trolley for those hot summer days and nights.
www.thebendtrolley.com
A+ Safe Chauffeur Private Car Service
490 NE Bellevue Dr.
Bend, OR 97701
(541) 494-7233
Bend Jeep® Tours, LLC
390 SW Columbia St., Suite 120
Bend, OR 97702
(541) 797-3678
Bend Limousine
Bend, OR
(541) 678-5525
Bend's Party Bus
Bend, OR
(541) 390-9728
Big Mountain Heli Tours
550 SW Industrial Way, Suite 105
Bend, OR 97702
(541) 668-7670
Cascade Towncar Service
Bend, OR
(541) 385-9382
Central Oregon Breeze
334 NE Hawthorne Ave.
Bend, OR 97701
(541) 389-7469
Central Oregon Taxi & Shuttle Service
105 SW Hayes Ave.
Bend, OR 97702
(541) 389-8090
Coiled Cabs
841 NW Bond St., Suite 17
Bend, OR 97702
(541) 810-0188
Destination Transportation LLC
626 NW Compass Ln.
Bend, OR 97703
(808) 457-8697
Elite Transportation
Bend, OR
(541) 390-9728
Enterprise Rent-A-Car
2301 NE Division St.
Bend, OR 97701
(541) 383-1717
Enviro Shuttle
60901 Brosterhous Rd., Suite 747
Bend, OR 97702
(541) 598-5384
Exquisite Limo Bend
Bend, OR
(541) 382-2977
Hertz Car Rental
2025 NE Hwy 20
Bend, OR 97701
(541) 388-1535
North Pine Carriage Co
Sisters, OR
(541) 306-8759
Octane Rental Company
Bend, OR
(541) 262-2567
RDM Shuttle
Redmond, OR
(541) 480-4040
Redmond Airport Shuttle
Central Oregon
(541) 382-1687
Shuttle Oregon
2300 NE 4th Ave., Suite 8267
Bend, OR 97701
(541) 903-0724
Wheel Fun Rentals - Bend
603 SW Mill A Dr.
Bend, OR 97702
(541) 408-4568