Bend Oregon Lodging & Accommodations
Bend Hotels and Resorts – Central Oregon Lodging and Accommodations
If you're looking for hotels in Bend, Oregon, we have it all! From five-star resorts, hotels, motels, and bed and breakfasts, all the way to vacation rental homes, rustic cabins and camping. There's a reason so many people visit Central Oregon – it's one of the most popular destinations in the Northwest. The stunning natural beauty and endless outdoor activities bring visitors from all over the country. Bend is also a year-round vacation destination. No matter what season it is, you'll find a fantastic place to stay.
Read More
One of the best things when you visit Bend is that we have lodging and accommodation options in so many different locations. You can stay right downtown to be close to restaurants, shopping, nightlife and parks. You can find a room right on the Deschutes River, or you can head out of town in any direction to experience our amazing natural playground. We're glad you've decided to visit Bend, and we're sure you'll find your perfect home away from home!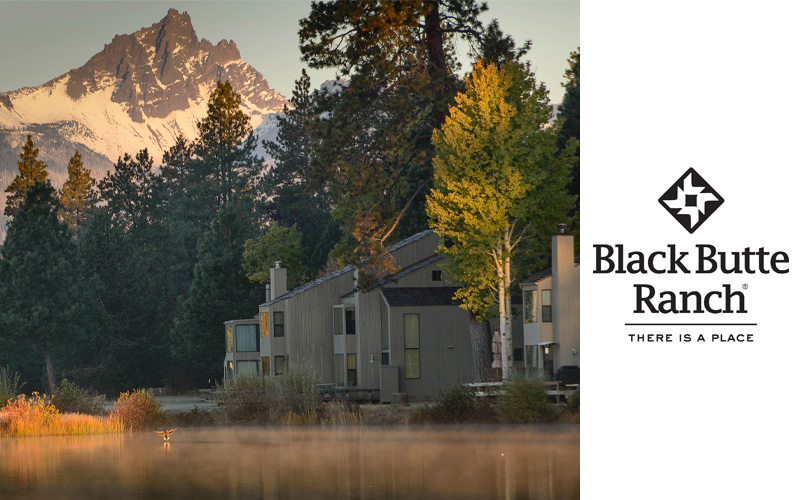 Black Butte Ranch
Black Butte Ranch, OR 97759
(855) 257-8286
Surrounded by awe-inspiring natural beauty, Black Butte Ranch has been a preferred Central Oregon wedding destination for over 40 years. Our unparalleled mountain backdrop, farm-to-table catering, abundant amenities, custom accommodations, spectacular ceremony sites and attentive staff ensure that your extraordinary day is everything that you imagined.
www.blackbutteranch.com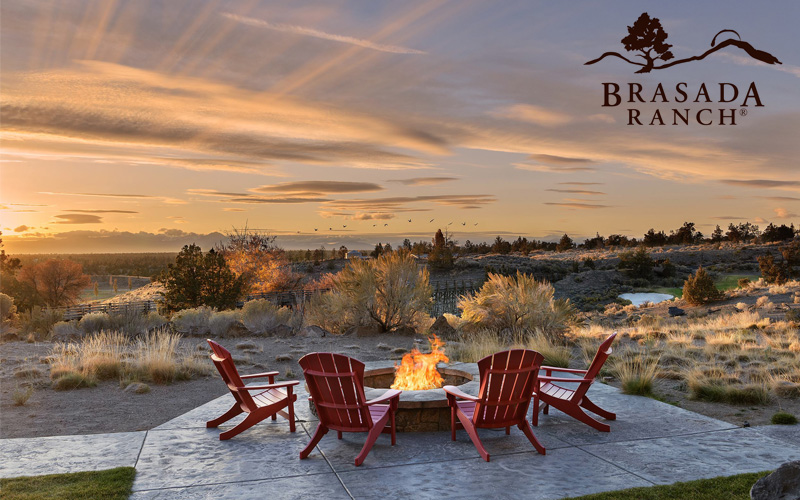 Brasada Ranch
16986 SW Brasada Ranch Rd.
Powell Butte, OR 97753
(866) 373-4882
Named "Best Resort in the Pacific Northwest" by Condé Nast Traveler, Brasada Ranch is an 1,800 acre resort situated on the scenic Powell Buttes just outside of Bend, Oregon. From intimate Ranch House boutique-style hotel suites to luxurious vacation rentals, Brasada Ranch delivers ranch-style authenticity and modern amenities.
www.brasada.com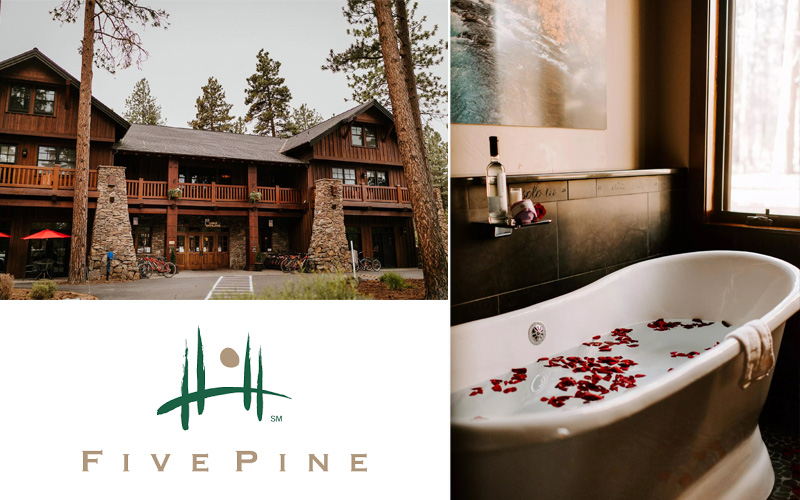 FivePine Lodge & Conference Center
1021 Desperado Trail, Sisters, OR 97759
(866) 974-5900
FivePine Lodge is a destination unlike anything else and is the perfect location to begin your life as husband and wife. Our intimate venue allows you to celebrate your special day with family and friends. We offer private and cozy cabins ideal for romantic couples and larger suites and cabins that are perfect for families.
– Voted "Runner Up" for best Conference Venue in Oregon by NW Meetings & Events
– Ranked 5th on TripAdvisor's Top 25 hotels in the U.S.
www.fivepinelodge.com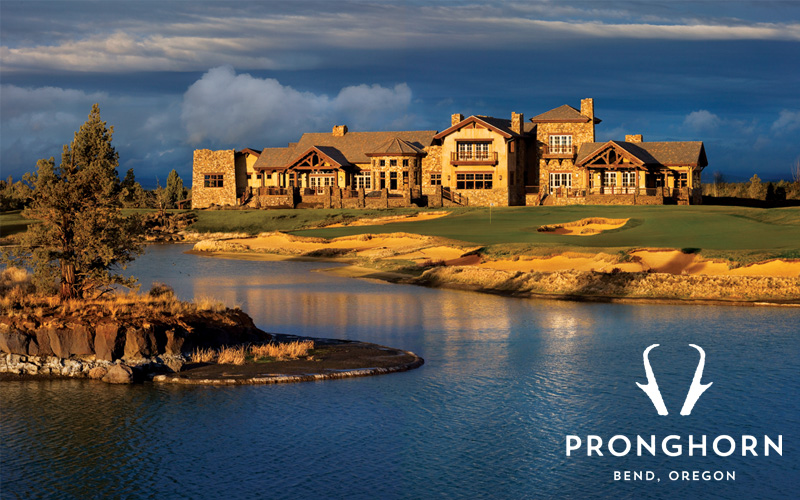 Pronghorn Resort
65600 Pronghorn Club Drive
Bend, OR 97701
(844) 287-5364
A magnificent setting for your special day. When you're planning one of the most memorable days of your life, you want only the best. At Pronghorn Resort, we pride ourselves on our quality of service, venues and cuisine for weddings in Bend, Oregon. Boasting breathtaking views, the clubhouse and surrounding lawn or Event Island offer a spectacular Bend wedding or event space with refined luxury amenities and a warm and relaxing atmosphere. Our highly personable and professional staff will help you create the ultimate experience for your celebration, one that is flawless and utterly unforgettable.
www.pronghornresort.com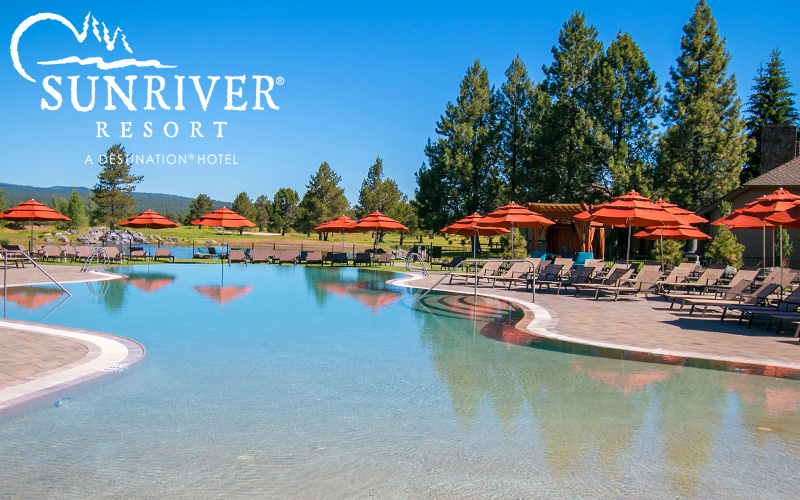 Sunriver Resort
17600 Center Dr.
Sunriver, OR 97707
(800) 801-8765
Sunriver is more than a resort. It's a special mountain retreat where the scenery is always spectacular, the hospitality is unforgettable, and the recreation opportunities are endless. In fact, Sunriver captures the grandeur of the Northwest like no place else. Nestled between the towering Cascade Mountains and the high desert, you and your guests will enjoy exploring all that Sunriver and Central Oregon have to offer.
www.sunriverresort.com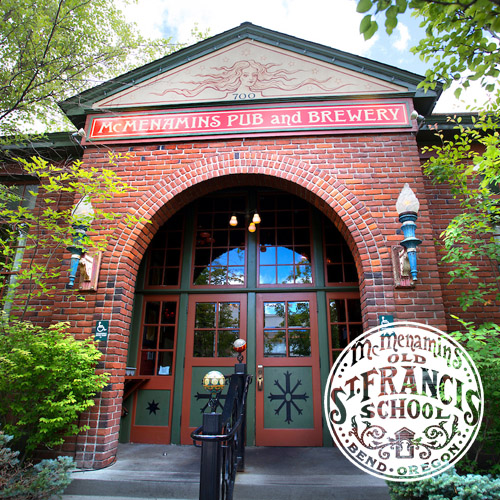 McMenamins Old St. Francis School
700 NW Bond St.
Bend, OR 97701
(541) 330-8567
This gem of a hotel in the heart of Bend offers comfortable guestrooms, onsite brewery, year-round soaking pool, quaint small bars and more. Guests can enjoy the entire property, discovering art and history; pausing for a handcrafted cocktail, ale or glass or wine; catching a movie or gathering in any number of cozy spots. Catering for your wedding is on site and includes servers, tables/chairs, linens and place settings, and once the food and beverage minimum is met, the space is free!
www.weddingswithmcmenamins.com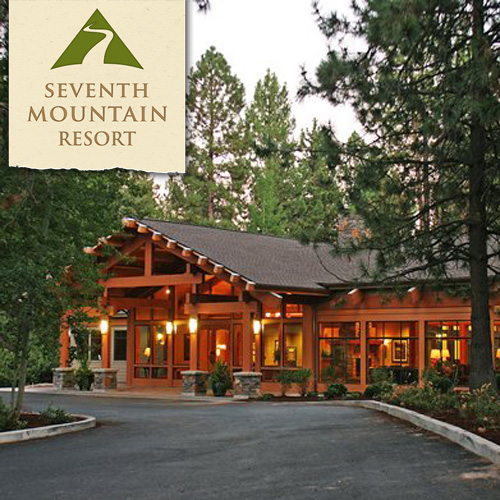 Seventh Mountain Resort
18575 SW Century Drive
Bend, OR 97702
(877) 765-1501
Located just outside of Bend, Oregon, Seventh Mountain Resort is your winter and summer outdoor adventure destination in sunny Central Oregon. At the gateway to the Cascade Lakes Highway the resort is also the closest lodging to Mount Bachelor.
Seventh Mountain is Central Oregon's premier location for recreational activities, from biking, hiking, and whitewater rafting in summer, to ice skating and skiing in the winter. The heated pools and hot tubs are open all year long, as are your outdoor options. Your stay here will have you encircled by peaks, lakes, meadows, culture, adventure, breweries, festivals, family fun, shopping and more.
www.seventhmountain.com
Alpenglow Vacation Rentals
115 NW Oregon Ave., Suite 9
Bend, OR 97703
(541) 385-7100
Bend Riverside Rentals
1565 NW Wall St.
Bend, OR 97703
(541) 389-2363
Bend Vacation Rentals by Arrived, LLC
404 SW Columbia St., Suite 160
Bend, OR 97702
(800) 215-9880
Bennington Properties LLC
56842 Venture Lane
Sunriver, OR 97707
(888) 894-4902
Best Western Newberry Station
16515 Reed Rd.
La Pine, OR 97739
(541) 536-5130
Best Western Plus Bend North
20615 Grandview Dr.
Bend, OR 97701
(541) 317-8500
Best Western Plus Rama Inn
2630 SW 17th Pl.
Redmond, OR 97756
(541) 548-8080
Best Western Prineville Inn
1475 NE Third St.
Prineville, OR 97754
(541) 447-8080
Best Western Premier Peppertree Inn at Bend
1082 SW Yates Dr.
Bend, OR 97702
(541) 283-3360
Bunk+Brew Historic Lucas House
42 NW Hawthorne Ave.
Bend, OR 97703
(458) 202-1090
Campfire Hotel
721 NE 3rd St.
Bend, OR 97701
(541) 382-1515
Cascade Lodge Bend
420 SE 3rd St.
Bend, OR 97702
(541) 382-2612
Cold Springs Resort
25615 Cold Springs Resort Ln.
Camp Sherman, OR 97730
(541) 595-6271
Comfort Inn & Suites
62065 SE 27th St.
Bend, OR 97701
(541) 617-9696
Comfort Suites Redmond Airport
2243 SW Yew Ave.
Redmond, OR 97756
(541) 504-8900
Country Inn & Suites by Radisson
62065 SE 27th St.
Bend, OR 97701
(541) 617-9696
Crooked River Ranch Cabins
14193 SW Chinook Dr.
Crooked River Ranch, OR 97760
(541) 220-0277
Cultus Lake Resort
55885 Cascade Lakes Hwy
Bend, OR 97702
(541) 408-1560
Days Inn by Wyndham Bend
849 NE 3rd St.
Bend, OR 97701
(541) 241-9159
DiamondStone Guest Lodges
16693 Sprague Lp.
La Pine, OR 97739
(541) 536-6263
Double Tree by Hilton
300 NW Franklin Ave.
Bend, OR 97701
(541) 317-9292
Dunes Motel Bend
1515 NE 3rd St.
Bend, OR 97701
(541) 382-6811
Eagle Crest Resort
1522 Cline Falls Rd.
Redmond, OR 97756
(855) 682-4786
Econo Lodge
437 NE 3rd St.
Bend, OR 97701
(541) 382-7711
Element Bend
1526 NW Wall St.
Bend, OR 97703
(541) 585-7373
Fairfield Inn and Suites by Marriott
1626 NW Wall St.
Bend, OR 97701
(541) 318-1747
Hampton Inn & Suites Bend
730 SW Columbia St.
Bend, OR 97702
(541) 388-3000
Hilton Garden Inn
425 SW Bluff Dr.
Bend, OR 97702
(541) 617-6111
Holiday Inn Express & Suites Bend South
61070 S Hwy 97
Bend, OR 97702
(541) 585-7474
Holiday Motel
880 SE 3rd St.
Bend, OR 97702
(541) 382-4620
Home2 Suites by Hilton Bend
21241 Livingston Dr.
Bend, OR 97701
(541) 797-7782
House On Metolius
10300 Forest Road 980
Camp Sherman , OR 97730
(541) 595-6620
La Quinta Inn Bend
61200 S Hwy 97
Bend, OR 97702
(541) 388-2227
Left Coast Lodge
511 West Cascade Ave.
Sisters, OR 97759
(541) 549-2551
LOGE Bend
19221 Century Dr.
Bend, OR 97702
(541) 306-3111
Metolius River Lodges
12390 SW Forest Service Rd.
Camp Sherman, OR 97730
(541) 595-6290
Metolius River Resort
25551 SW Forest Service Rd. #1419
Camp Sherman, OR 97730
(541) 595-6281
Mill Inn Bed & Breakfast
642 NW Colorado Ave.
Bend, OR 97701
(541) 389-9198
Motel 6 Bend
201 NE 3rd St.
Bend, OR 97701
(541) 382-8282
Motel 6 Redmond
2247 S Hwy 97
Redmond, OR 97756
(541) 923-2100
Mount Bachelor Village Resort
19717 SW Mount Bachelor Dr.
Bend, OR 97702
(888) 752-2220
My Place Hotel
550 SW Bond St.
Bend, OR 97702
(541) 213-2108
Pine Ridge Inn
1200 SW Mount Bachelor Dr.
Bend, OR 97702
(800) 600-4095
Quality Inn Bend
20600 Grandview Dr.
Bend, OR 97701
(541) 639-4078
Quality Inn Madras
12 SW 4th St.
Madras, OR 97741
(541) 475-6141
Red Lion Inn & Suites Deschutes River Bend
15 NE Butler Market Rd.
Bend, OR 97701
(541) 388-4114
Residence Inn by Marriott
500 SW Bond St.
Bend, OR 97702
(541) 382-5001
Riverhouse on the Deschutes
3075 N Hwy 97
Bend, OR 97703
(888) 919-9148
SCP Redmond Hotel
521 SW 6th St.
Redmond, OR 97756
(541) 508-7600
Shilo Inns Bend
3105 OB Riley Rd
Bend, OR 97701
(541) 389-9600
Sleep Inn
500 NE Bellevue Dr.
Bend, OR 97701
(541) 639-4369
Sleep Inn & Suites Redmond
1847 NW 6th St.
Redmond, OR 97756
(541) 516-6269
SpringHill Suites by Marriott Bend
551 SW Industrial Way
Bend, OR 97702
(541) 382-5075
Sugarloaf Mountain Motel
62980 N Hwy 97
Bend, OR 97701
(541) 330-5998
Sunny Acres B & B
22030 Stormy Ln.
Bend, OR 97701
(541) 639-8186
Super 8 by Wyndham Bend
1275 SE 3rd St.
Bend, OR 97702
(541) 388-6888
Super 8 by Wyndham Redmond
3629 SW 21st Pl.
Redmond, OR 97756
(541) 548-8881
Tetherow
61240 Skyline Ranch Rd.
Bend, OR 97702
(844) 431-9701
The Camp
305 NE Burnside Ave.
Bend, OR 97701
(541) 382-2335
The Cottage Inn at Sisters
560 E Main Ave.
Sisters, OR 97759
(541) 527-0815
The Inn At Cross Keys Station
66 NW Cedar St.
Madras, OR 97741
(541) 475-5800
The Oxford Hotel
10 NW Minnesota Ave.
Bend, OR 97701
(541) 382-8436
The Pines At Sunriver
17655 Pinnacle Ln.
Sunriver, OR 97707
(541) 593-2160
The Suttle Lodge
13300 Hwy 20
Sisters, OR 97759
(541) 638-7001
TownePlace Suites by Marriott
755 SW 13th Place
Bend, OR 97702
(541) 382-5006
Wall Street Suites
1430 NW Wall St.
Bend, OR 97703
(541) 706-9006
Waypoint Hotel
1415 NE 3rd St.
Bend, OR 97701
(541) 382-7011