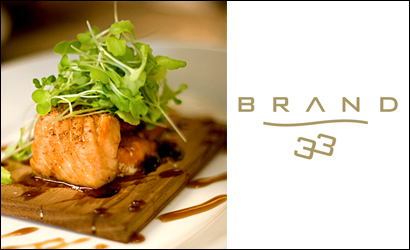 Brand 33 at Aspen Lakes
16900 Aspen Lakes Dr
Sisters, OR 97759
(541) 549-3663
Join us for your special events. Whether you are looking for a Wedding Location, a great view for a Rehearsal Dinner, a place to celebrate a Birthday or Anniversary, or a place to make a Sales Presentation, Brand 33 is your answer.
www.aspenlakes.com/restaurant
Culinary Delight and Scenic Heights: Discovering Brand 33 in Sisters, Oregon
Nestled in the picturesque town of Sisters, Oregon, Brand 33 emerges as a culinary gem tucked within the Aspen Lakes Golf Course. This esteemed restaurant is not just a dining destination; it's a culinary haven that caters to diverse occasions, from intimate dinners to wedding rehearsal celebrations and anniversaries. With a delectable menu, stunning views, and versatile event spaces, they stand out as one of the best restaurants in Sisters, Oregon.
A Culinary Journey: Exploring Brand 33's Menu
Brand 33 takes diners on a gastronomic journey with its amazing menu options and delicious offerings. From appetizers that tantalize the taste buds to main courses that showcase the finest ingredients, every dish is a testament to the culinary expertise that defines them. The menu, carefully curated to blend local flavors with global influences, ensures a dining experience that is both satisfying and memorable. Whether savoring a quiet dinner or celebrating a special occasion, Brand 33 promises culinary delights that elevate the dining experience.
Versatility in Celebration: Perfect for Various Occasions
Brand 33 goes beyond being a restaurant; it is a versatile venue that caters to various celebrations. Whether you're planning a romantic dinner, a wedding rehearsal, an anniversary celebration, or any other special occasion, they provide the perfect backdrop. The ambiance, coupled with the exceptional service and culinary offerings, makes it an ideal choice for those seeking an unforgettable dining experience in Sisters, Oregon.
The Loft: Scenic Views and Versatile Spaces
Part of the restaurant, The Loft stands as a testament to the restaurant's commitment to providing not just a meal but an experience. With the capacity to seat up to 75 people for dinner, The Loft offers the best views in Central Oregon. Open timber trusses and a fireplace set the atmosphere, creating a warm and inviting space with the Three Sisters mountains as a breathtaking backdrop. The 100-inch projection screen adds a dynamic element, making The Loft not only a dining space but also an ideal venue for presentations and photo slideshows.
Event Catering: Elevating Aspen Lakes Celebrations
Brand 33 extends its culinary excellence to event catering, specializing in weddings and celebrations hosted at Aspen Lakes Golf Course. Whether it's an intimate gathering or a grand affair, their catering services ensure that every palate is pleased, adding a touch of gastronomic magic to the celebrations. The seamless integration of culinary expertise and event coordination makes them a sought-after choice for those looking to elevate their special occasions.
Conference Room: Intimate Gatherings and Business Presentations
In addition to The Loft, they offer a conference room ideal for small parties and business presentations. Seating up to 14 people, this space provides an intimate setting where guests can enjoy the same culinary excellence in a more private atmosphere. The versatility of Brand 33's spaces makes it a perfect destination for various occasions, from personal celebrations to professional meetings.
Brand 33 – A Culinary Oasis in Sisters, Oregon
As one of the best restaurants in Sisters, Oregon, Brand 33 is more than a dining establishment; it is a destination where culinary excellence meets scenic beauty. Whether you're seeking a memorable dinner, a celebration venue, or event catering, Brand 33 promises an experience that transcends expectations. With The Loft offering unparalleled views, the conference room for intimate gatherings, and a menu that delights the palate, Brand 33 stands as a culinary oasis in the heart of Sisters, inviting guests to savor not just a meal, but a journey of flavors and memories.