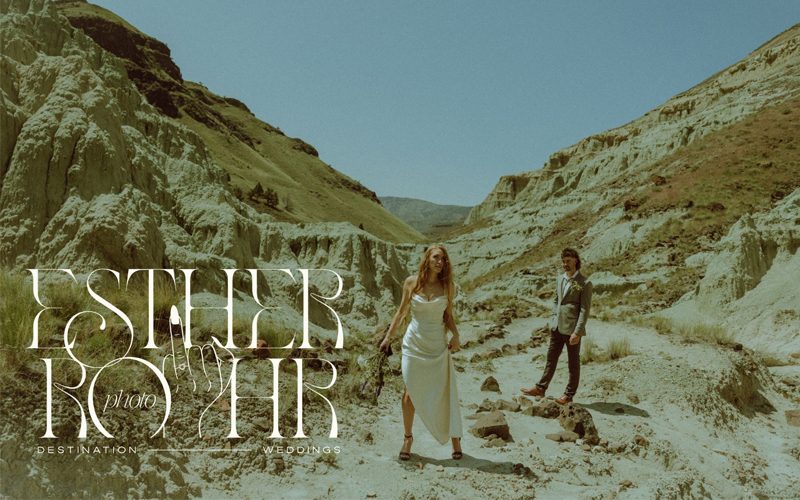 Esther Rohr Photography
Bend, OR
(541) 749-0082
Hiii I'm Esther! But you can call me your new wedding photographer… 😉 Intimate weddings and Elopements are my jam, but however you choose to tie the knot I want to be there. I love the outdoors, camping with my husband, and road trips. We talk heavily in quotes from The Office, and never miss a chance to say, "That's what she said!". We have funn. Most of all I love shooting people in love, let me capture some rad photos of you!
www.estherrohr.com
Click Here for my Reveiews
Esther delivers!
My experience with Esther exceeded my expectations. I needed headshots done for my business, and she managed to translate my vision for whimsy, outdoorsy photos into the perfect product! She was flexible and communicated quickly with me. Although it may have been circumstantial being outside the busy season, she edited my photos so quickly and delivered even more than was promised! I look forward to working with Esther again in the future.
Extremely talented photographer!
Beautiful work. Close attention to details & capturing special moments. Easy to work with. She is so sweet, cool, funny, creative, thinks out of the box. Goes the extra mile to ensure you are happy! Love her!
The perfect blend of talent, flexibility, professionalism and thoughtfulness!
Our time spent with Esther was one our favorite parts of the big day – from the early start, to the first look, to knowing she was just as present at the ceremony as we were, to seeing her pop around at the reception, her gentle direction, cheery soul, and calm presence was an absolute joy to work with.
Now, with the gallery in hand, we can say with confidence and total appreciation that hiring Esther was the best decision we made throughout the whole process, aside from marrying each other. She employs a wonderful blend of talent, attention to detail, empathy, time-management, thoughtfulness and humor.
Forever grateful for her capturing our wedding.
Great Family Photos!
It's no small task to take family photos with small children (2 and 3 years old). I was worried about them holding still and smiling for the camera, but Esther had us running, playing, and snuggling the whole time. She captured us in such a natural way, and the kids had a blast. I love the variety of pictures we ended up with. Excellent work!
Absolutely incredible!!
Very talented, confident and professional. Also keeping it fun and stress free at the same time. Had several beautiful shoot locations for our engagement photos that was just what we were looking for. All the pictures exceed our expectations and we are so happy with the beautiful memories captured by such a talented photographer. Esther was super easy to communicate and book with and just a totally rad person to hang out with.
Beautiful Imagery!
I've worked with Esther on multiple creative projects and I'm always so excited to see the finished photographs because I know they'll be amazing! Esther brings energy, passion, and a fun personality to each project. As a florist, editing that doesn't change the flower colors is very important to me. Esther's style perfectly captures things in their true colors while still feeling very unique.
Excellent, beautiful!!
Esther was amazing! She captures the details, so fun and energetic. Made it easy to be ourselves and and pays attention to details. I would highly recommend her to take your pictures! Love her style and character.
Esther made our day so awesome!
Esther did an awesome job capturing our wedding day. She was so fun to work with and made us both feel comfortable. We were thrilled with how the pictures turned out!
Fun, easy to work with, and amazing photos I'll have forever!
Esther went above and beyond for my fiancé and I's engagement photo session. She was familiar with the location, recommend poses and movements that tuned out amazing, and returned photos in a timely manner. She was professional, fun to work with, outgoing, and a down to earth person one can genuinely connect with. Her personality and overall kindness made me feel comfortable in front of the camera. Did I mention her editing style is amazing! Give me all the warm tones!
Sweetheart!
Esther is a great human being, she was thoughtful and delivered what I asked her to do for our wedding (for the party pictures, I wanted some different effects), and she delivered FAST! And she did a badass photoshoot with us after the wedding ?
The only two points that I wish it was different:
1 -Some of the pictures had a lot of empty space to the left while the person in the right got their arm cut off (not completely, but it doesn't frame good in my opinion), or a lot of head space a a bit of the feet got cut off.
2- The other point was that some of the pictures that she edited, I felt like my face was too white… Somewhat over expose, but it was definitely the filter, because we paid for the RAW pictures as well, and they were good.