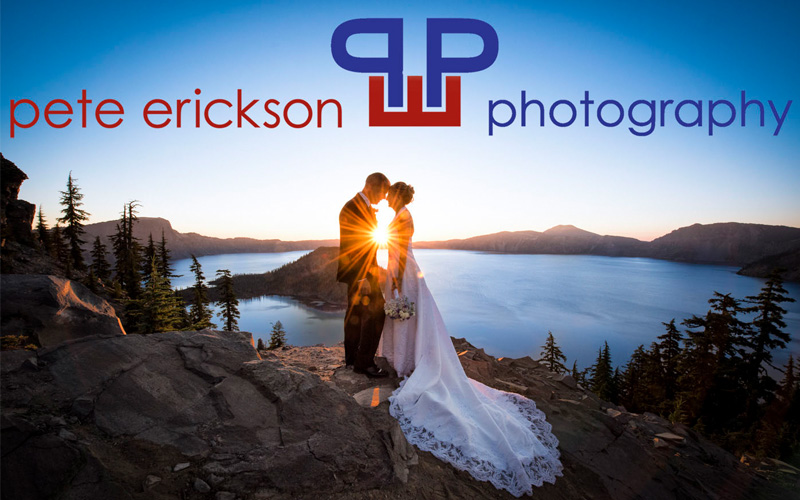 Pete Erickson Photography

1102 NW Stannium Rd.
Bend, OR 97703
(541) 390-1273
Pete Erickson Photography is a premier wedding and portrait studio based in Bend, Oregon. Pete Erickson the photographer worked 15 years as a national award winning newspaper photographer and has been creating beautiful wedding photography for happy clients since 2003. Using knowledge from pure photojournalism I can adapt my style to suit the needs of individual clients and can make beautiful art for your home in any environment or circumstance.
www.pe-wedding.photography
Capturing Timeless Moments: Pete Erickson Photography – Bend, Oregon's Premier Wedding Photographer
In the heart of Bend, Oregon, Pete Erickson stands as a visionary artist and storyteller through his lens. With a long and illustrious career in photography and photojournalism, Pete has journeyed across the globe, capturing captivating moments that transcend time and culture. Now based in Bend, Oregon, Pete Erickson specializes in wedding photography, drawing inspiration from the natural beauty, extraordinary wedding venues, and incredible weather that Central Oregon offers.
A Seasoned Photographer with a Global Perspective
Pete Erickson's extensive experience in photography and photojournalism spans decades, offering a wealth of expertise and a unique storytelling approach. His global adventures have equipped him with a refined eye for detail, a deep understanding of diverse cultures, and a passion for capturing the authenticity of life's most precious moments. This breadth of experience informs his craft, infusing each shot with a narrative that reflects the couple's unique story.
Specialization in Wedding Photography
Pete's specialization in wedding photography is a testament to his dedication to capturing the beauty and emotion of one of life's most significant milestones. His natural, photojournalistic style ensures that each photograph authentically narrates the love, joy, and sentiment of the day. By seamlessly blending into the background and capturing candid moments, Pete creates a visual chronicle of the day that truly reflects the couple's personality and the essence of their union.
Versatility in Photography
Beyond wedding photography, Pete Erickson extends his artistry to professional portraiture, engagement photo shoots, and family photos. His ability to create an environment where individuals feel at ease and natural in front of the camera is a testament to his skill and dedication to his craft. Each portrait session is an opportunity for Pete to encapsulate the unique essence of his subjects, creating timeless images that resonate with authenticity and emotion.
Central Oregon: A Photographer's Paradise
Central Oregon's breathtaking natural beauty and incredible wedding venues provide an idyllic backdrop for Pete's photography. With the region's diverse landscapes, from the majestic Cascade Mountains to the serene Deschutes River, Bend offers an array of picturesque settings for stunning and memorable photography. The region's favorable weather conditions, boasting plenty of sunny days, provide optimal lighting conditions for capturing timeless moments.
Offerings Beyond Photography
Pete Erickson not only captures moments but also transforms them into tangible memories. In addition to digital images, Pete offers high-quality photographic prints that embody the essence and emotion of the captured moments. Furthermore, he provides custom-designed wedding albums, creating an heirloom that preserves the beauty and story of the couple's special day for generations to come.
In conclusion, Pete Erickson Photography stands as Bend, Oregon's premier choice for those seeking a photographer who can authentically capture the essence of life's most cherished moments. With a profound understanding of diverse cultures and a wealth of experience in photography, Pete's natural, photojournalistic style ensures that every photograph is a timeless reflection of the unique stories he has the privilege to capture. Through the stunning landscapes and incredible wedding venues of Central Oregon, Pete Erickson creates visual narratives that speak volumes, capturing the beauty, emotion, and depth of every moment.