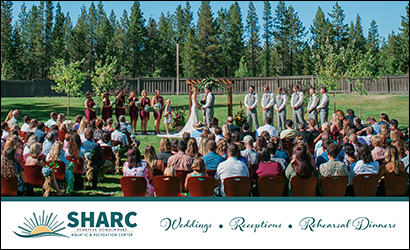 Sunriver Homeowners Aquatic & Recreation Center (SHARC)

57250 Overlook Road
Sunriver, OR 97707
(541) 585-3144
SHARC wants to make your wedding day a memorable one. Located in beautiful Sunriver, Oregon, SHARC gives you indoor and outdoor possibilities with more than 5,000 square feet of event space. We can host small, intimate weddings up to 250 guests. Our amphitheater makes for an amazing outdoor venue while Benham Hall is perfect for hosting your indoor ceremony and reception. View our online brochure and find out why our guests think SHARC is the best place to host your wedding, reception or rehearsal dinner.
www.sunriversharc.com
Celebrate Your Unforgettable Day at Sunriver's SHARC: A Wedding Oasis
Nestled in the heart of the stunning Sunriver, Oregon, the Sunriver Homeowner's Aquatic & Recreation Center (SHARC) isn't just a haven for outdoor enthusiasts or families seeking adventure. It's also an idyllic destination for those seeking a dreamy wedding setting. Imagine saying "I do" surrounded by the natural splendor of the Pacific Northwest, as the Cascade Mountains stand tall in the backdrop and the Deschutes River gracefully winds nearby.
SHARC: The Perfect Venue
For couples seeking a unique and breathtaking wedding venue, SHARC offers an array of indoor and outdoor spaces that cater to a variety of tastes and preferences. The venue combines the rustic charm of Oregon with modern amenities, ensuring a seamless and beautiful experience for your special day.
Outdoor Elegance
The allure of an outdoor wedding against the scenic beauty of Sunriver, Oregon is unparalleled. SHARC provides various outdoor options to exchange vows amidst nature's picturesque grandeur. The sprawling green landscapes, charming gazebos, and the serene river views create a captivating ambiance, perfect for a romantic and memorable ceremony.
Indoor Sophistication
In case of inclement weather or if you prefer an indoor setting, SHARC's indoor spaces offer a sophisticated yet cozy atmosphere. The elegantly designed halls provide a charming backdrop for your ceremony and reception, exuding warmth and intimacy.
The Beauty of Sunriver, Oregon
Sunriver, as a whole, is a stunning backdrop for any celebration. It's not just about the wedding day itself; it's about the entire experience leading up to it and the memories made after. The area surrounding Sunriver offers an array of activities for you and your guests. From hiking and biking along scenic trails to exploring lava caves or playing golf at world-class courses, there's no shortage of things to do.
A Dream Destination
The town of Sunriver is a haven for outdoor enthusiasts. It's home to a myriad of adventures, including skiing at Mt. Bachelor, fishing in the Deschutes River, or simply basking in the beauty of the High Desert. With its vibrant wildlife and diverse landscape, the region creates an enchanting ambiance, making it an ideal destination for a wedding celebration.
Memories to Last a Lifetime
A wedding at SHARC in Sunriver is not just an event; it's an experience. The venue, with its versatile options, allows couples to design their perfect day. The memories created against the backdrop of Oregon's natural beauty will last a lifetime, not only for the couple but for all those who gather to celebrate this special occasion.
In the enchanting land of Sunriver, Oregon, SHARC stands as an exceptional venue for weddings, offering an unparalleled blend of natural beauty and modern amenities. The diverse indoor and outdoor options ensure that your wedding day reflects your unique style and preferences. Beyond the wedding itself, Sunriver offers a plethora of activities for you and your guests, creating a memorable and fulfilling experience. Choosing Sunriver and SHARC for your wedding means immersing yourself in nature's splendor while creating moments that will be cherished forever. It's more than a ceremony; it's a celebration of love amid the breathtaking charm of the Pacific Northwest.