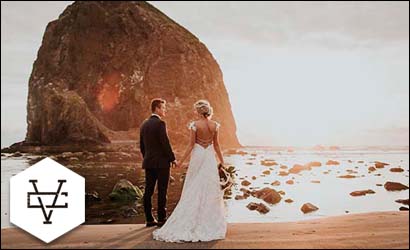 Victoria Carlson Photography

All of Oregon
tc@victoriacarlsonphotography.com
Hey, I'm Tori! I am a portrait and wedding photographer based out of central Oregon and married to my best friend, Reegy P! These are a few of my favorite things: Jesus, smiling, cats, board games, backpacking, coffee, rock climbing, The Wailin' Jennys, mountain biking and family time. Let's hang out and take some sweet photos!
www.victoriacarlsonphotography.com
Capturing Timeless Moments: A Glimpse into Victoria Carlson Photography in Bend, Oregon
In the heart of the picturesque landscape of Bend, Oregon, Victoria Carlson Photography emerges as a beacon of artistic brilliance, specializing in preserving the magic of weddings, engagements, and elopements. Victoria, an award-winning photographer, has cultivated a distinctive style that seamlessly blends natural beauty with candid authenticity, creating a visual narrative that captures the essence of each moment.
A Natural and Candid Vision: The Essence of Victoria's Style
Victoria Carlson Photography is synonymous with the art of storytelling through imagery. Victoria's signature style is beautifully natural and candid, emphasizing genuine moments and the raw emotions that make each love story unique. Her keen eye for detail and a preference for natural light result in photographs that are not just visually stunning but also emotionally resonant.
Whether it's the subtle play of sunlight during an engagement session or the soft glow of candles at a wedding ceremony, Victoria artfully uses natural light to enhance the beauty of her subjects. The result is a collection of images that radiate with warmth and authenticity, creating a timeless visual narrative for couples to cherish.
Award-Winning Excellence: Victoria Carlson's Distinctive Touch
Victoria's passion for her craft has not gone unnoticed. Her exceptional talent has earned her accolades in the form of prestigious awards, a testament to the dedication and creativity she pours into each project. With a commitment to excellence, Victoria continuously pushes the boundaries of conventional wedding photography, creating a body of work that stands out for its artistry and emotional depth.
From Central Oregon to the World: A Global Perspective
While Victoria is rooted in the captivating landscapes of Central Oregon, her reach extends far beyond its borders. As a destination wedding photographer, she is available to travel anywhere in the world to capture the love stories of couples seeking a touch of her distinctive artistry. Whether it's a romantic beach wedding, a mountaintop elopement, or an urban celebration, Victoria's lens knows no geographical boundaries.
Beyond Digital: Tangible Memories through Prints and Albums
Victoria Carlson Photography offers more than just digital memories. In an era dominated by pixels and screens, Victoria understands the enduring value of tangible keepsakes. Clients have the option to choose from real prints, available in both small and large formats, providing a physical manifestation of their most cherished moments.
For those seeking a comprehensive storytelling experience, Victoria crafts custom-designed wedding albums that narrate the entire love story in a tangible, beautifully bound format. These albums serve as timeless treasures, allowing couples to revisit their special day with the turn of every page.
Mastering the Art of Emotional Capture: Moments to Last a Lifetime
What sets Victoria apart is her innate ability to capture the raw, unfiltered emotions that define significant moments. Beyond the posed portraits, she excels in freezing those fleeting instances of laughter, tears, and shared glances—the kind of moments that become cherished memories for a lifetime.
Victoria's dedication to preserving authentic emotions is evident in the testimonials of her clients, who often praise her for making them feel comfortable and natural in front of the camera. Her unobtrusive approach allows couples to be themselves, resulting in photographs that reflect the true essence of their connection.
In the world of wedding photography, Victoria Carlson Photography stands as a testament to the power of artistry, storytelling, and a commitment to preserving the timeless beauty of love. Through her lens, Victoria captures not just images but the emotions, stories, and memories that make each wedding a unique and unforgettable chapter in the journey of love.